Another first for Sound Warriors!
Led by Derby University's Associate Professor of Applied Theatre, Dr Ava Hunt and a team of her postgraduate students, a group of young performers from Derby Youth Theatre have pulled off another first. The young actors have become Sound Warriors and created their own take on why unwanted sound matters to everyone. 
Sit back and enjoy the

u

n

i

q

u

e

and

f

u

n

videos by our performing

Sound Warriors!
Will Loh's dastardly tricks fool the Sound Warrior? Will Maya be rescued? Who is going to win the final showdown? Watch the videos to find out!
Ep 1 At the Disco – it's too loud
Ep 2 We are not all the same – everyone can join in
Ep 3 in the monsters lair – Loh and the science bit
If you would like us to run a workshop at your school or group please call the team for a chat on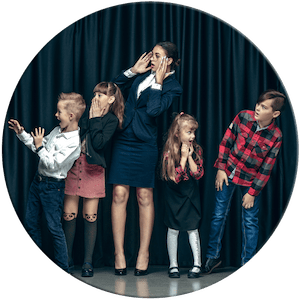 See our journey in pictures!
Week 1
Getting to know everyone
Week 2
Learning about hearing and our initial ideas.
Week 3
Creating our storyboards
Week 4
Getting into character & rehearsals
Week 5
Rehearsal for camera – and finally – filming!
The young people of Derby Youth Theatre and Derby Deaf Youth Theatre co-created these movies, under the guidance of Associate Professor of Applied Theatre, Dr Ava Hunt and two of her fantastic MA students, Becca and Daisy.
The idea for the production was commissioned by us, Hearing Ambassadors, who approached Dr Hunt last year to ask her to help with their latest project, Sound Warriors. Dr Hunt's mission was to work with young people to co-create an engaging piece of theatre which explains to people of their age how hearing works and why it is so important to be aware of excessive noise when listening to loud music in discos, gyms, and gigs.
Hearing Ambassadors would like to express their grateful thanks to videographers, Immersive Productions, and Derby Theatre, without whom this would not have been possible.
---
Check out all of our Sound Warriors pages!